Hi there!
Students enrolled in the new international research Master's program on Islands and Sustainability, known as ISLANDS, have been granted an exciting opportunity to join the research team at The Field Station Solander's Eye in Iceland.
ISLANDS is a collaborative ERASMUS Mundus joint program offered by the University of Groningen in conjunction with three island-based universities: the University of the Aegean, the University of Iceland, and the University of Las Palmas de Gran Canaria. This program, co-funded by the European Union, primarily focuses on developing knowledge about island-specific characteristics and the tools, skills, and technology required to bridge the gap between theoretical understanding and practical implementation in sustainability.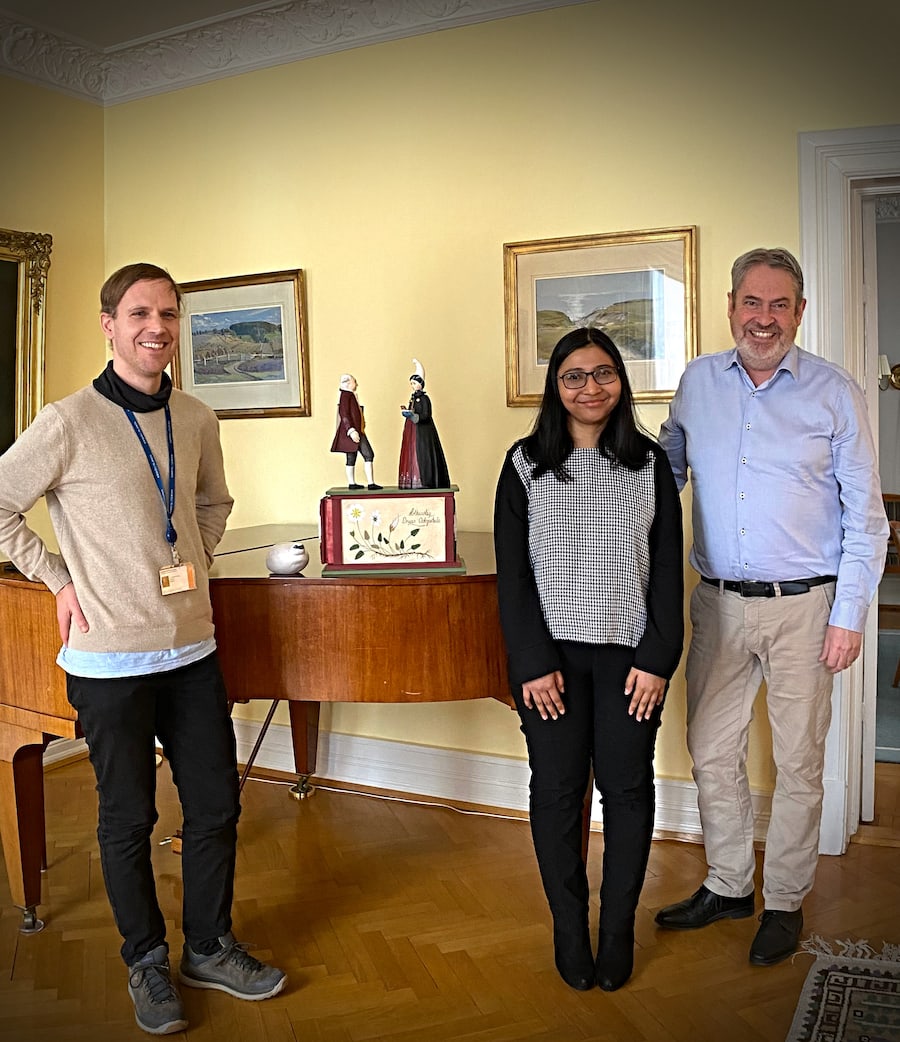 Benjamin Hennig, Professor of Geography at the University of Iceland, Yulita Muspitasari, Research student at the University of Groningen, during a visit to discuss the new Master's program with Pär Ahlberger, Ambassador of Sweden to Iceland.
About the new Master's program, Ahlberger says the following:
"The Solander's Eye Field Station in the Vatnajökull national park is a significant component of the entire project Solander250 – Bréf frá Íslandi. Thereby reaching out beyond the oceans in the spirit of Daniel Solander and the Apostles of Carl Linnaeus. The research on the autonomous Field Station has now been extended to the international research program on Islands and Sustainability, co-funded by the EU. I am most grateful to all those involved and will follow the continued research with great interest. Thank you, The IK Foundation."
The inclusion of Solander's Eye Field Station, based in Iceland, as a case study presents an ideal opportunity for students to engage in hands-on activities that foster the development of multidisciplinary research skills.
The Field Station offers an invaluable opportunity to observe the natural landscape in an undisturbed remote location, including wildlife, weather patterns, vegetation, atmosphere, and more. As data collection at the station commenced in autumn 2022, participating students had the privilege of delving into the first six months' worth of collected data, discussing its significance across various disciplines. This allowed them to formulate pertinent research inquiries that leverage the ongoing data collection process and contribute to a deeper understanding of the human impact on this relatively untouched and remote corner of our planet. Such insights are crucial for fostering public awareness of environmental changes in the era of humanity.

One student, Yulita Muspitasari, conducted her Individual research project around Solander's Eye. Through her project, she gained valuable knowledge spanning glaciology, geomorphology, ecology, and geography. The outcomes of her work include a draft paper currently being refined for submission to an academic journal.
Welcome to listen and read more about this inspiring international project – another embryo to a new Bridge Builder Expeditions enterprise!